We strive to provide the highest level of dentistry while ensuring a comfortable experience for all of our patients. Our state of the art office, which opened in November of 2009, employs a variety of technologies to accomplish just that.

Dexis Low-Dose Digital X-rays provide exceptional diagnostic capabilities while minimizing patient exposure to radiation.

Gendex Low-Dose Digital Panorex provides a comprehensive picture of all the teeth and jaws without the discomfort and inconvenience of traditional Full Mouth X-Rays.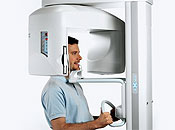 iCon, a digital intra-oral camera, comfortably and instantly allows you to see what we're seeing.

Say Goodbye to Pain from Dental Injections
DentalVibe® is a revolutionary, patented, award-winning device that uses vibration to block the sensation of pain. So when you get a shot, you don't feel it. DentalVibe is gentle, fast, and safe. There are no pills to take, no gas to inhale, no drowsy after-effects to worry about.
DentalVibe® is a breakthrough application of The Gate Control Theory of Pain.
S Small Nerve Fibers
L Large Nerve Fibers
I Inhibitory Neuron
P Projection Cells

Here's how it works:

Research shows that when vibration is simultaneously applied as a counter- stimulation to an anesthetic injection, its sensation reaches the brain first, blocking the feeling of pain.
Proposed by Dr's Ronald Melzack and Patrick Wall in 1965, there is a neurological "gate" located within the dorsal horn of the spinal cord, that can either block pain signals, or permit them to travel up the spinothalamic tract to the brain.
The sensation (impulses) of vibration travels very quickly along thick, myelinated, A beta nerve fibers at 75 meters/second. In contrast, the sensation of pain travels slowly along thin, unmyelinated, C nerve fibers at 2 meters/second.**
When occurring at the same time, the sensation of vibration reaches the sensory area of the brain first, and also causes a release of inhibitory inter- neurons, preventing the activation of projection neurons at the synaptic junction in the dorsal horn of the spinal cord, resulting in a closure of the gate to the sensation of pain.
DentalVibe® also has child size tips and offers animal finger puppets, allowing children to enjoy their time more while having a procedure performed.
The award-winning Isolite dryfield illuminator brings efficiency and improved patient safety & comfort to dental procedures. While it comfortably retracts the tongue and cheek, protects the throat and keeps the mouth gently propped open, dental procedures are completed 20% to 30% faster.
The Zoom® In-Office Whitening System is clinically proven to whiten teeth an average of eight shades in just one office visit.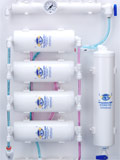 Concerned about the water quality in the dental office?

VistaClear is a dental waterline treatment system. The patented design isolates operatories from other water sources for enhanced infection control.

VistaPure is an ultra pure water delivery system producing high purity distilled quality water used in instrument sterilization.
Patient Monitors designed for both patient education and entertainment during treatment.
The building, Children's Wisconsin, is owned by Children's Hospital of Wisconsin. A number of healthcare providers have offices here including Otolaryngology (Ear, Nose, and Throat doctors), Sports Medicine, Physical and Occupational Therapy, Radiology Services and a large Pediatric group.